ChicTopia!
24 July 08
Since i've discovered
ChicTopia
i've kinda fallen out of love
with my
fotolog
,it is the end of an era,and the beginning of
another.I still upload sometimes,but i just use it as a link connection
to my blog.
Lulu
is one of the most stylish girls i've ever met.
She knows it all.Proudly runs
ChicTopia
,and it has become
an amazing place for all
internet fashionistas
to share their clothes,
and where you can ask "
where is that from
"?I just arrived
some weeks ago,and they already asked me to be their
style
icon of the month
which honoured me so much!Also to top it up,
you can read it now clicking
HERE .
Find out why everybody
(incluiding

Neo2

magazine) wants to be on

ChicTopia

!!!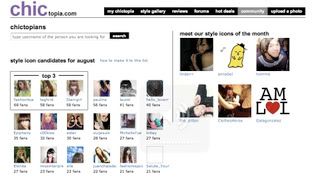 Desde que descubri

ChicTopia

me he medio desenamorado
de mi fotolog,es el final de una era y el comienzo de otra nueva.
Sigo subiendo fotos,pero tan solo lo hago para potenciar el link
que lleva a mis lectores hasta aqui, mi blog.

Lulu

es una de las
chicas mas estilosas que he conocido hasta el momento atraves de
la red.Se lo sabe todo!Es la encargada de dirigir ChicTopia,web
que se ha convertido en punto de encuentro de muchas fashionistas
de internet,donde comparten sus modelitos y donde pueden preguntar
"de donde es eso que llevas puesto"!Yo tan solo cree mi cuenta
hace un par de semana y ya me han nombrado

Style Icon del
Mes

.(lo cual me hizo mucha ilusion).Tambien LuLu me hizo una
entrevista para su blog personal "

everybody is ugly

"
(puedes leerla en el link del texto en ingles).Descubre porque
(incluyendo a la revista

Neo2

) todo el mundo quiere estar en ChicTopia!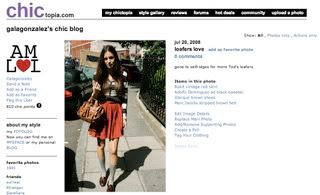 8 Comments