Look of the Day.88: Botkier+Courson+Gonzalez
11 August 10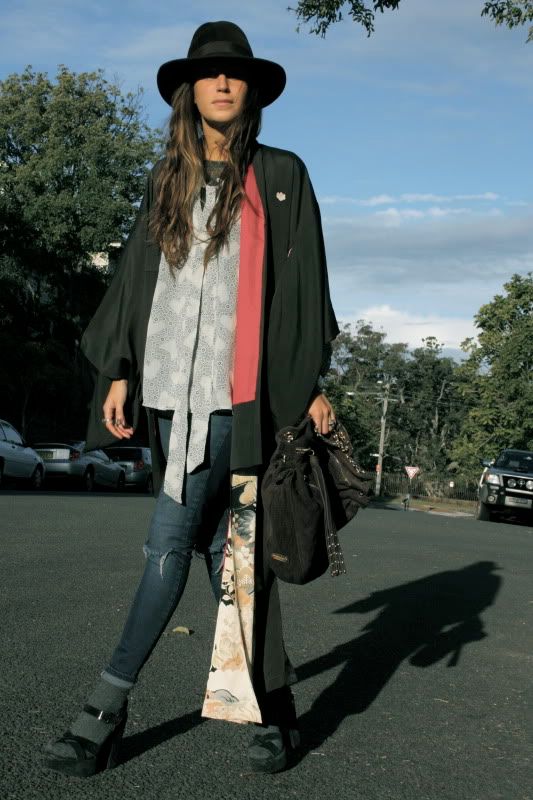 kimono-vintage,hat-vintage,blouse-TopShop,jeans-TopShop,bag-

"Ava" Botkie

r
First hectic week here in Sydney…I haven't been able to get internet at home till now…
But all sorted! Anyway..been up and down..haven't stopped much at home.
First stop with Dean and Winston around the city,then 2 days in a row at Florence+the Machine's gigs here in Sydney.
Special thanks to Hannah(keeping it british of course)!!!! Then a bit of shopping that you'll see very soon. Attending to
SportsGirl
fashion show with gorgeous
Zanita
to finish it up at australian's designer
Bowie
's studio running around ,choosing garments and trying on amazing pieces! What can I say??
I AM LOOOVING IT
…and this is just the beginning!
Also! This week just came out the latest fashion online collaboration: BOTKIER+BLOGLOVIN'
These are the images from my latest collaboration for Botkier' s a/w latest campaign.
As most of you follow each other through
Bloglovin
' is good to know that now can see our faces being displayed on the latest
Botkier
's a/w campaign! Under the theme"
embrace your
iner bag girl
", Botkier asked us to represent and choose our favourite bad rock'n'roll chick of all times… I had to admit,I've been obsessed with
Anita Pallenberg
for ages.It have always shown on my sketches ,as the 70s are one of my favourite decades,but without a doubt when it comes to the first,and real one it's gotta be my other iconic woman of all times:
Pamela Courson
.And that's why i chose her for this campaign as my inner bad girl!
62 Comments