Look of the Day.44: black spring
21 May 09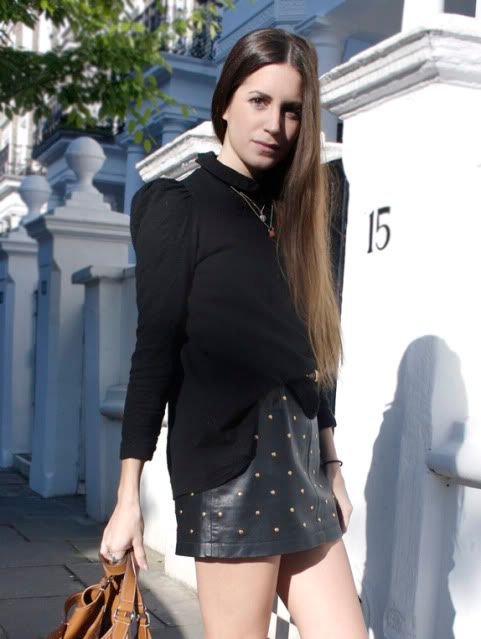 I love May and June…when stress strikes again!I had a very busy day yesterday with
very good and nice things too.I was invited to have a sneak preview of the
new
Reiss
range
that is about to launch in the summer…
and to see the whole new 
a/w 09 collection,
guided by the lovely man behind the success of the brand,
Andy Rogers
.
Let me tell you something,i can't wait to put my hands in a couple
of pieces that have stolen my heart…amazing patterns and  colour palette!!
for my blog header?Well, after someone mistakenly put  it into the washing
mashing over 40 degrees, has now become my new favorite big-shoulder top!
Me encanta Mayo y Junio,cuando el estres una vez mas se apodera de ti.
Ayer tuve un dia bastante completo,de esos que cuando por fin llegas a casa 
te derrumbas en la cama y ya no puedes volver a levantarte mas.
Andy Rogers

,director de la marca britanica 

Reiss

  

 
me invito a conocer de su mano la

nueva linea

que vera la luz 
este verano y la ultima

coleccion a/w 09

.Con una paleta de
 color exquisita y unos cortes y detalles magnificos. 
 Ya tengo en mente varias piezas que seran una autentica gozada para mi armario.
Otro de los incisos del dia fue relacionado con mi LBD de lana con el que 
Danny Roberts

me dibujo en el header de mi blog hace ya varios meses.
Despues de que alguien por error(uhmmm) lo metiera en la lavadora
 a mas de 40 grados y se convirtiese en un raquitico top,es ahora sin duda uno de
mis favoritos con manga abullonada!
116 Comments