Look of the Day.9:TEDDY GiRL!
04 September 08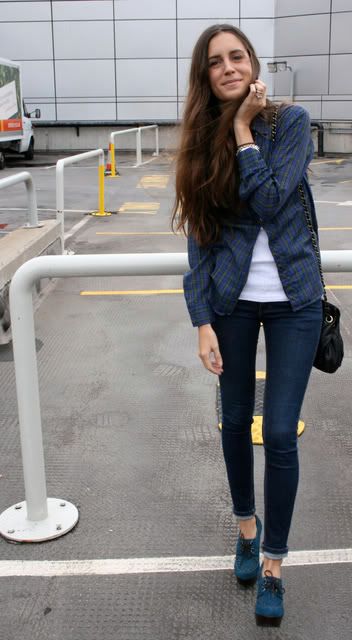 Once again,England have made history in Fashion.
Teddy boys and girls are back in fashion,and even the big
Vivienne

Westwood

took their style ,when she opened
her first store in Kings Road. Now you can see the classic
this pair from

Office

as one of their

High-street must haves

for this
season.And after 3 days looking for them in blue,(as they are
already out of stock in all UK) i found this very last pair in BrentCross
shopping center.(remember me not go again in such fashion-road
trips around London,please!)
Inglaterra,una vez mas ha hecho historia en el mundo de la moda.
El estilo "

Teddy boy

"(50's) vuelve a estar de moda.Y eso que
ya habia sido adoptado y plagiado por la gran

Vivienne

cuando abrio
su primera tienda en Kings Road.Los

CREEPER SHOES

bajan
de la pasarela hasta el "high-street".Estos (de Office)son los elegidos
por la revista Elle

como los "must-have" de esta temporada.Ya
agotados en toda UK, y tras 3 dias intensivos de busqueda y captura,
consegui este utlimo par en BrentCross shopping center.
More about my clothes
HERE
AND YES,I DO OWN A PAIR LIKE THIS ONES TOO,YOU'LL SEE!
ES CIERTO,TENGO UN PAR DE ESTOS TAMBIEN!
94 Comments